WINNER OF GOLD SPECIAL JURY AWARD FOR OUTSTANDING EXCELLENCE AT WORLDFEST 2003
Part III of the award-winning trilogy
THE LIFE & SIGNIFICANCE OF
G.I. GURDJIEFF
---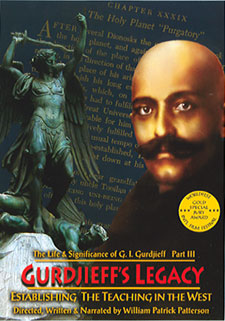 This year WorldFest, one of the largest and most prestigious of the international film festivals, received over 4,500 entries.
Of these, 1,000 were nominated by judges to be considered for the Grand Award (best-in-festival).
Only 10 of these entries were chosen to receive the Gold Special Jury Award for Outstanding Excellence.
We are delighted to announce that Gurdjieff's Legacy: Establishing The Teaching in the West—was one of these very special 10 entries.
Gurdjieff's Legacy completes our seven-year effort to produce the video trilogy The Life & Significance of George Ivanovitch Gurdjieff.
Gurdjieff's Legacy is a color, 86-minute documentary that tracks Mr. Gurdjieff's struggle to establish the ancient teaching of The Fourth Way in the West. It covers the final period in his life, 1924 to 1949, and was shot on site at the Prieuré, Paris, Mont St. Michel, Lascaux, Monte Carlo, London, Lyne Place, New York, Mendham, New Jersey, and the Avon cemetery.
This award establishes the trilogy's excellence, for its second video—Gurdjieff's Mission—also won the Gold Special Jury Award at WorldFest in 2002. And the first video—Gurdjieff in Egypt—won the 2000 Gold Award.
We feel especially grateful for this continuing recognition, because our great wish and aim is that it will further increase an appreciation of Mr. Gurdjieff and the teaching he brought at so great a personal sacrifice.

---