WINNER OF GOLD SPECIAL JURY AWARD FOR OUTSTANDING EXCELLENCE AT WORLDFEST 2002
Part II of the award-winning trilogy
THE LIFE & SIGNIFICANCE OF
G.I. GURDJIEFF
---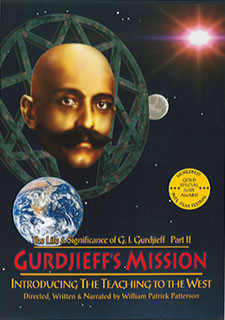 Winner of the rarely given Gold Special Jury Award for Outstanding Excellence at WorldFest, one of the oldest and most prestigious of the international film festivals, GURDJIEFF'S MISSION is the first documentary to detail Gurdjieff's unwavering struggle to fulfill his mission of establishing the ancient teaching of The Fourth Way in the West.
Shot on site in St. Petersburg, Moscow, Constantinople, London, Paris and New York, the 80-minute color documentary follows Gurdjieff from his arrival in Russia in 1912 through to 1924. Having finally established his Institute for the Harmonious Development of Man in France, he risked all in a make-or-break gamble to take the teaching to America, for America, Gurdjieff believed, despite its "feverish existence" and obsession with "growing dollars," was a country which had "the largest percentage of beings in whose presences the possibility of acquiring Being is not entirely lost."
Gurdjieff's Mission, based on William Patrick Patterson's Struggle of the Magicians, portrays Gurdjieff's enigmatic relationship with P.D. Ouspensky and the little-known "St. Petersburg Conditions," his use of "divine acting," the warning to J.G. Bennett about "too much intellectual knowledge," and intensive work with A.R. Orage, renowned editor and friend of T.S. Eliot, George Bernard Shaw and Ezra Pound.
Gurdjieff's Mission is the second in the video trilogy The Life and Significance of George Ivanovitch Gurdjieff. The first video, Gurdjieff in Egypt: The Origin of Esoteric Knowledge, won the Gold Award for Biography at WorldFest. Gurdjieff's Mission has won the Gold Special Jury Award for documentary excellence.
WorldFest is the film festival at which such notable directors as Steven Spielberg, Ang Lee, Peter Weir and David Lynch won their first awards. The documentary category has always been especially strong. In 2001, The Endurance, the story of Earnest Shackleton's Antarctic exploration, won. There were 4,000+ entries in all categories in 2002, which was narrowed down to three entries to be awarded the Grand Prize. Gurdjieff's Mission was one of the three finalists.
---